Careers Overview 2020/21
The Skipton Academy is committed to providing all students in Years 7-11 with a programme of events and supporting activities to provide them with information and guidance about career opportunities and employment. This will be guided by the Gatsby Benchmarks thus ensuring best practice.
The Gatsby Benchmarks are designed to ensure students:
Receive a stable careers programme from years 7 to 11

Learn from career and labour market information

Address the needs of every student

Links curriculum learning to careers

Has meaningful encounters with employers and employees

Has experiences of workplaces

Has meaningful encounters with further and higher education

Receives personal guidance
 The current careers programme is delivered through a combination of methods, including PSHE in Years 7 to 11 and through assemblies, competitions, presentations, employer visits, workshops and 1:1 sessions from Year 8 to 11. Additionally, several special events are organised such as the NCOP mentoring scheme for all year 11 students and targeted university visits from year 9. 
The Journey
Year 7
Careers Assemblies

Careers focused

Guest speakers

Transition

work

Focus on

Careers and future planning

STEM workshops

 
Year 8
Careers Assemblies

Careers focused

Skills

and qualities

Exploring

careers

Enterprise skills

Personal

economics

Targeted

personal careers

 
Year 9
Careers Assemblies

University

visits

Career research

Goal setting

STEM workshops

Guest speakers

– industry

professionals

Transition

work KS3 to KS4

Options choices

Targeted

personal careers

Employment and

financial management

 
Year 10
Careers Assemblies

University

visits

Career focused competitions

STEM workshops

Guest speakers

– industry

professionals

Workplace

experiences

Interview technique

Targeted

personal careers

Employment

rights

Health and safety

Understanding

a pays lip

 
Year 11
Careers Assemblies

University

visits

Guest speakers

– industry

professionals

Workplace

experiences

Post 16

Targeted

personal careers

Taster days

Post 16

CV writing and interview

Personal

statements

 
The 5-year careers journey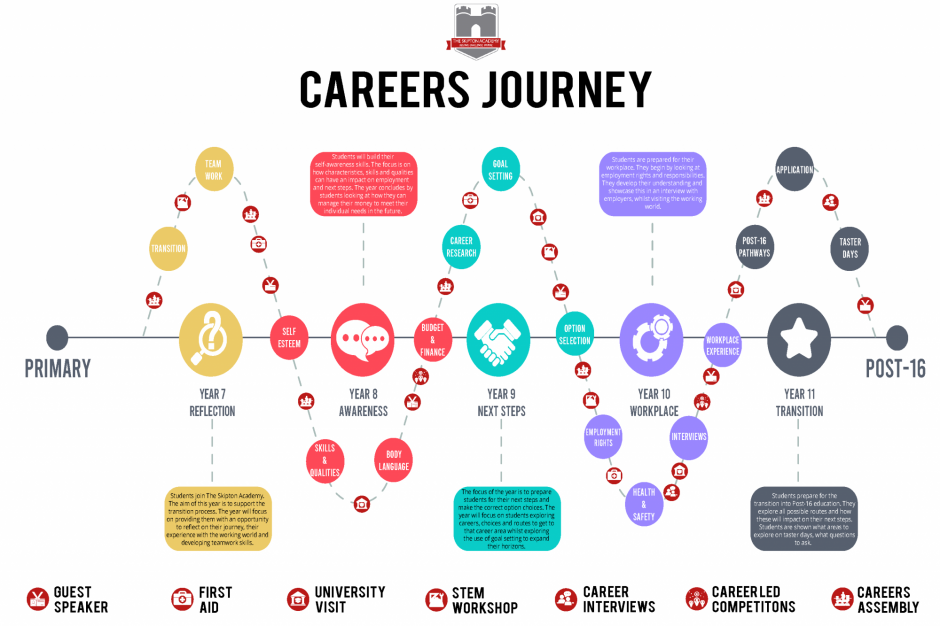 The PHSE Programme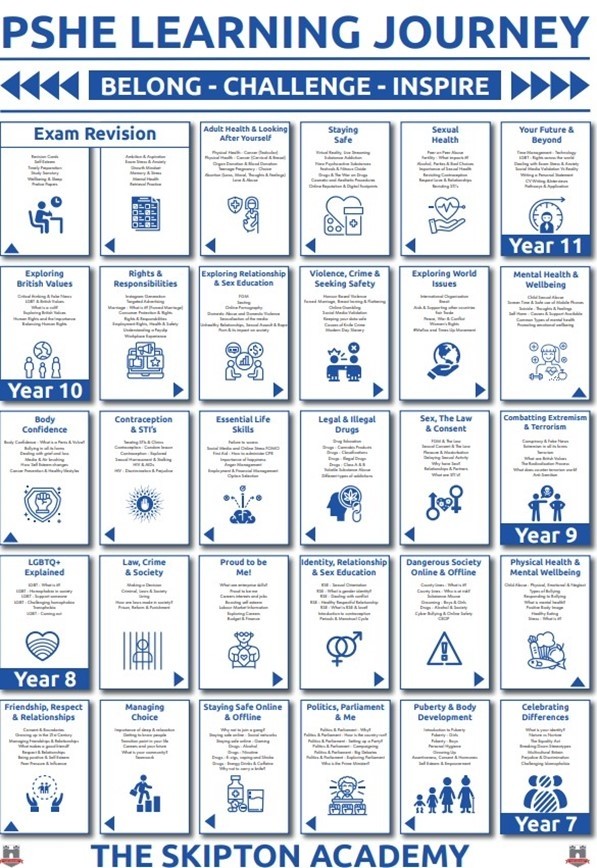 For
more information, contact the CEIAG team:
m.cook@theskiptonacademy.co.uk  (Deputy Principal) 
s.brown@theskiptonacademy.co.uk (Head of Key Stage 3) 
j.khalil@theskiptonacdemy.co.uk (Head of Key Stage 4) 
Additionally, contact your

child's form

tutor for any questions you might have

 

Useful Websites: Researching career ideas

https://nationalcareersservice.direct.gov.uk  - an opportunity to look at job profiles  

www.apprenticeships.org.uk - up-to-date information and current vacancies  

www.careersbox.co.uk - a national online careers film and video library  

www.nhscareers.nhs.uk - explore all career options available through the NHS

https://barclayslifeskills.com/young-people/ - advice and tools to help you plan your future career.

Download a copy of the careers overview document here