Uniform
Our uniform is sensible, practical and smart and we expect that students will wear it with pride.
Students can expect to be challenged where they fall short of our high expectations. Students are ambassadors for the school when they are out in the community and wearing school uniform and are expected to behave accordingly.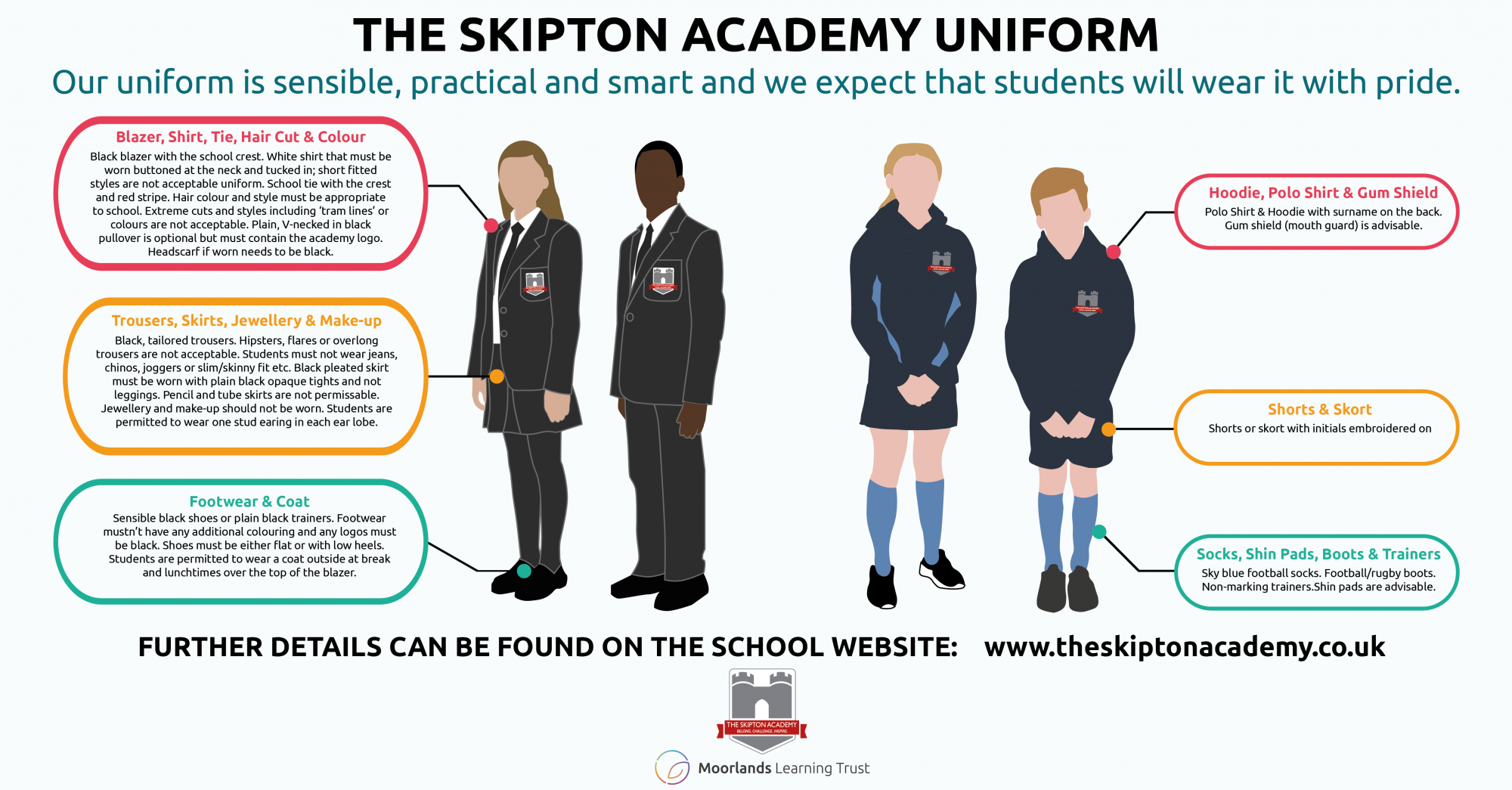 If there are any other issues concerning uniform, these need to be discussed with the Head of Year.  
Blazer: black with academy crest (compulsory). Available from uniform stockists.  Along with the academy tie, the blazer is how students are recognised as members of our academy community and consequently, it must always be worn.
Black tailored trousers: Students must not wear jeans, chinos, joggers, or slim/skinny fit etc. Belts must be black, plain and cannot be heavily branded.
Black pleated skirt: purchased from the academy uniform suppliers. Worn no shorter than 10cms (2 inches) above the knee. Skirts must be worn with plain black opaque tights and not leggings. As a reminder skirts should not be rolled or altered. Pencil and tube skirts are not permissible. Failure to wear the appropriate skirt or if repeatedly worn too short will result in students losing the privilege to wear skirts and will be required to wear black tailored trousers.
Shirt: plain, white, and tucked in with the top button fastened. No short, fitted shirts or blouses.
Red Striped Academy tie: that is worn with the academy crest clearly visible. There must be a minimum of a 10cm gap from the top of the academy crest and the tie knot. The tie must have a red stripe for all year groups.
Sensible black shoes or plain black trainers: Footwear mustn't have any additional colouring and any logos must be black. Shoes must be either flat or with low heels.  Students coming into the academy without the correct footwear will be given academy pumps to wear.
Pullover: (optional) plain, V-necked in black with the academy logo.  Available from uniform stockists.  No non-academy pullovers, jumpers, hoodies, or sweatshirts may be worn at any time and will be confiscated.
Socks (if wearing trousers): Plain black, grey, or white.
Coat: If it is wet or cold students can wear a coat outside at break and lunchtime over the top of the blazer.  These must be removed before entering the classroom. 
Headscarf (worn for religious reasons): if worn this needs to be black.
Jewellery: should not be worn except for one pair of students' earrings and a watch. Earrings must be worn in each ear lobe. There must be no face, nose, tongue, or body piercings. If worn students will be required to remove them immediately, they will be confiscated and returned to parents.  'Retainers' worn in place of piercings, rings and bracelets are not permitted.
Make-up: is not allowed in Y7 - 9. Discreet make-up is permissible in Y10 -11. False nails or nail varnish is not permitted. Students coming into the academy and not complying with this will be expected to remove this.