Post-16 Options
Leaving school will present students with a collection of emotions. The act of change is not easy for anyone and making decisions about their further education can be daunting. The best way to approach this task is with knowledge and information about their choices. The information available on these sites is a good start for you to build up this awareness of the various routes you can take when you leave The Academy.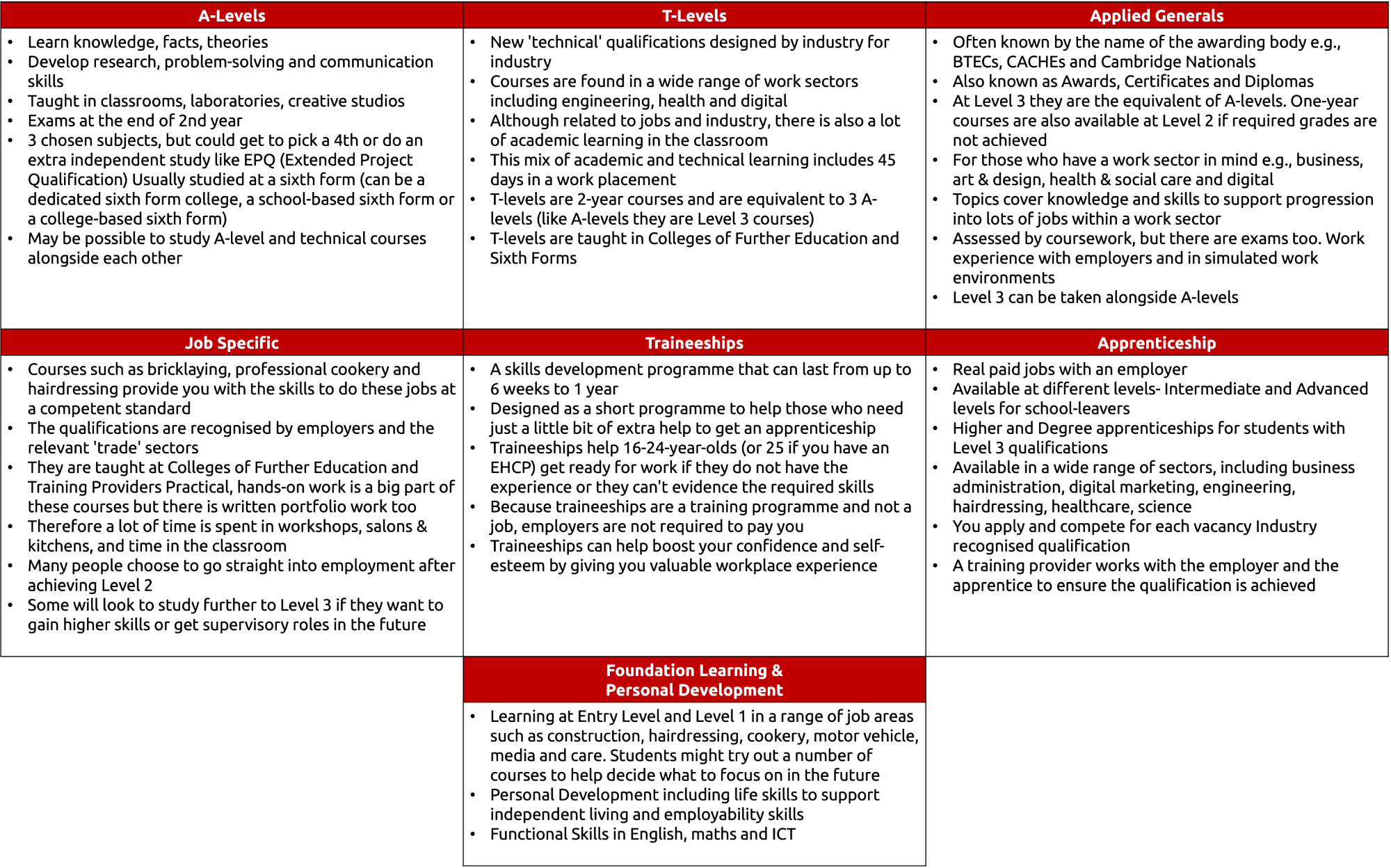 Table of dates and times of local 6th post 16 provider Open Evenings and application process.
| 6th Form or College | Application form process | Closing Dates if applicable | Contact info |
| --- | --- | --- | --- |
| Ilkley Grammar | On the school website under the post 16 page 'Admissions' section (Not yet available as of 10/10/19) Email directly or can be obtained from the school. | Mid-February | 01943 608424  |
| Craven College | Online only (See 'Apply' section on the homepage of the website) | Ongoing applications but advise applying by Easter | 01756 791411 |
| Craven College (Aviation Academy Leeds Bradford Airport) | Online only (See 'Apply' section on homepage of the website) | Ongoing applications but advise applying by Easter | 0113 3910919 |
| Ermysted's Boys Grammar | Download the Application Form on the website (Under the 6th form 'Apply') | Ongoing applications but advise applying early | 01756 792186  |
| South Craven | It can be accessed online under the 6th form page, completed, printed off and sent via post | Mid-December | 01535 632861  |
| Leeds City College | Access via the 'Menu' then 'Courses' then 'How to Apply' tab | Ongoing but suggest applying by Easter | 0113 3861997  |
| Nelson and Colne College | Access on the homepage 'Apply now' tab. Can complete it online or download and print off an application form. | Ongoing but suggest applying by Easter | 01282 440200  |
| Settle College | Access via the 'Sixth Form' tab then click on the 'Admissions' tab | Mid-December | 01729 822451  |
| Shipley College | Go to the 'Find a Course' section on the homepage, click on course choice then use the 'Apply Now button at bottom of the page. | Ongoing but suggest applying by Easter | 01274 4327222  |
| Skipton Girls High School | Access via the 'Post 16' section on the web homepage 'Enrol into our 6th form' tab. Can download the application form and complete and print it off. The prospectus and Application form will go 'live' on Open Evening | Normally early December | 01756 707600  |
| Giggleswick School | The admissions process for sixth form entry here: Application Link | Ongoing applications. Scholarship assessments take place in February each year, however we do accept applications throughout the year. Early application is advised. | 01729 893 000 |
What is Further Education?
Further education – or abbreviated to FE – includes any study after secondary education that's not part of higher education (that is, not taken as part of an undergraduate or graduate degree).
FE – further education – colleges offer a much wider range of courses than at sixth form colleges or schools, ranging from basic English and maths to Higher National Diplomas (HNDs). Most do offer A-levels, the same as sixth form colleges and schools, but also have a huge number of other qualifications available in different subjects and at different levels.
Level 1 qualifications are fairly basic, building confidence and providing an introduction to a subject, industry or area of work. They include, for example, NVQ Level 1, BTEC Introductory Certificates and OCR Nationals which are roughly equivalent to GCSEs gained at grades 3 to 1. You would need qualifications at this level before progressing to level 2.
Level 2 qualifications (eg. NVQ level 2 and BTEC First) give a deeper understanding of a subject or area of work and are roughly equivalent to GCSEs at grades 9 to 4. Many employers like young people to have a Level 2 qualification as a minimum.
Level 3 qualifications include A and AS-levels, NVQ Level 3, BTEC Nationals, Advanced and Progression Diplomas. This level is almost always required for entry to university and many employers will be looking for Level 3 in applicants for more technical or supervisory roles.
Levels 4 to 8 may also be available in your local college but are classed as 'higher' rather than 'further' education. They include Foundation degrees, HND/HNC courses, Honours degrees and postgraduate or professional qualifications at a high level.
Not all colleges, however, will offer the same variety of subjects and courses, so it's very important to check carefully what is available locally.
FE / further education funding
Many courses in reading, writing and basic maths are free, and you may not have to pay for tuition if you're under 24 and studying for your first qualification equivalent to GCSE or A-level.
FE / further education students may be able to get help with the costs of:
Their course
Their day-to-day living costs
Childcare for any dependents
Depending on your circumstances and the subject you're studying, you may qualify for Discretionary Learner Support