English
The English curriculum at The Skipton Academy is designed to provide depth and breadth of knowledge and experience and foster a love of language and literature in all its forms.  Students follow a curriculum that develops their critical understanding of how language is used to create meanings and effects with a steady progression of knowledge and skills throughout the course tailored to individuals' needs.  The curriculum is designed with the expansion of our pupils' cultural capital at its heart, exposing them to differing world views throughout.
At The Skipton Academy, an English scholar will be a critical analyser of language and literature and will also be media-literate in this increasingly technological world.  They will be an efficient communicator in spoken language, able to express ideas and opinions in a thoughtful, considered manner. In addition to this, a Skipton Academy English pupil will be able to utilise a variety of written forms using Standard English to enhance their communication across other subject disciplines.  A love of reading is a relentless focus of the English Curriculum and as such pupils will become engaged in others' experiences and will broaden their own horizons, seeking out new opportunities.  Throughout all their English curriculum study, Skipton Academy pupils will develop empathetic, accepting and open minds.
Key Stage Three 
We deliver a three-year KS3 programme which is underpinned by the National Curriculum. Students begin their course with a focus on the origins of the English language and the art of story-telling, designed as a base upon which to build their further studies into the human condition, exploring different facets of human nature through termly thematic foci. They also examine different political, social and historical context and their impacts upon texts and writers' opinions.  Throughout KS3, pupils study a wide range of literature from around the world and across time periods, through which they examine key societal concepts such as race, gender and class. Each theme has a core text to ensure full immersion in novels and plays but is supported by other fiction forms such as poetry and short stories as well as a range of non-fiction texts that deepen their understanding of key themes and concepts.  Pupils develop their KS2 skills through teaching of specific formal grammar rules and their application in different writing forms.
Key principles of the KS3 curriculum:
each term explores a facet of the human condition

each term has one base text to ensure students have the opportunity to immerse themselves fully into literary texts

each term also has non-fiction texts to ensure students are continually upskilling in both disciplines

we are keen to avoid the concept of 'other' or to trivialise marginalised voices and perpetuate the idea of women, people of colour etc as victims and stereotypes. Instead, a range of writers are interweaved throughout the topics and celebrate diversity and powerful female characters.

each term will assess the key three skills of reading, writing and speaking and listening
 Key Stage Four
At Key Stage Four, we follow the AQA English Language and Literature specifications which build upon the knowledge secured in KS3. Specifically, students learn how to explore writers' aims and viewpoints through a range of texts including Shakespeare's Macbeth, Dickens's A Christmas Carol. An Inspector Calls and Power and Conflict poetry. Students explore the set text by building on the key concepts around human nature introduced in KS3. Specifically, students explore:
Hubris and the abuse of power
Conflict and inner conflict
Identity and culture
Justice and Injustice, crime and punishment
Social and political hierarchies
Relationships
Gender and misogyny
They examine a range of fiction and non-fiction texts using analytical skills to scrutinise language and structural elements.  Throughout all their study, an emphasis is placed on developing our pupils into well-rounded, successful, enthusiastic readers able to acknowledge and discuss wide-ranging viewpoints and opinions in a mature way preparing them for participation in society.
 KS3 Learning Journey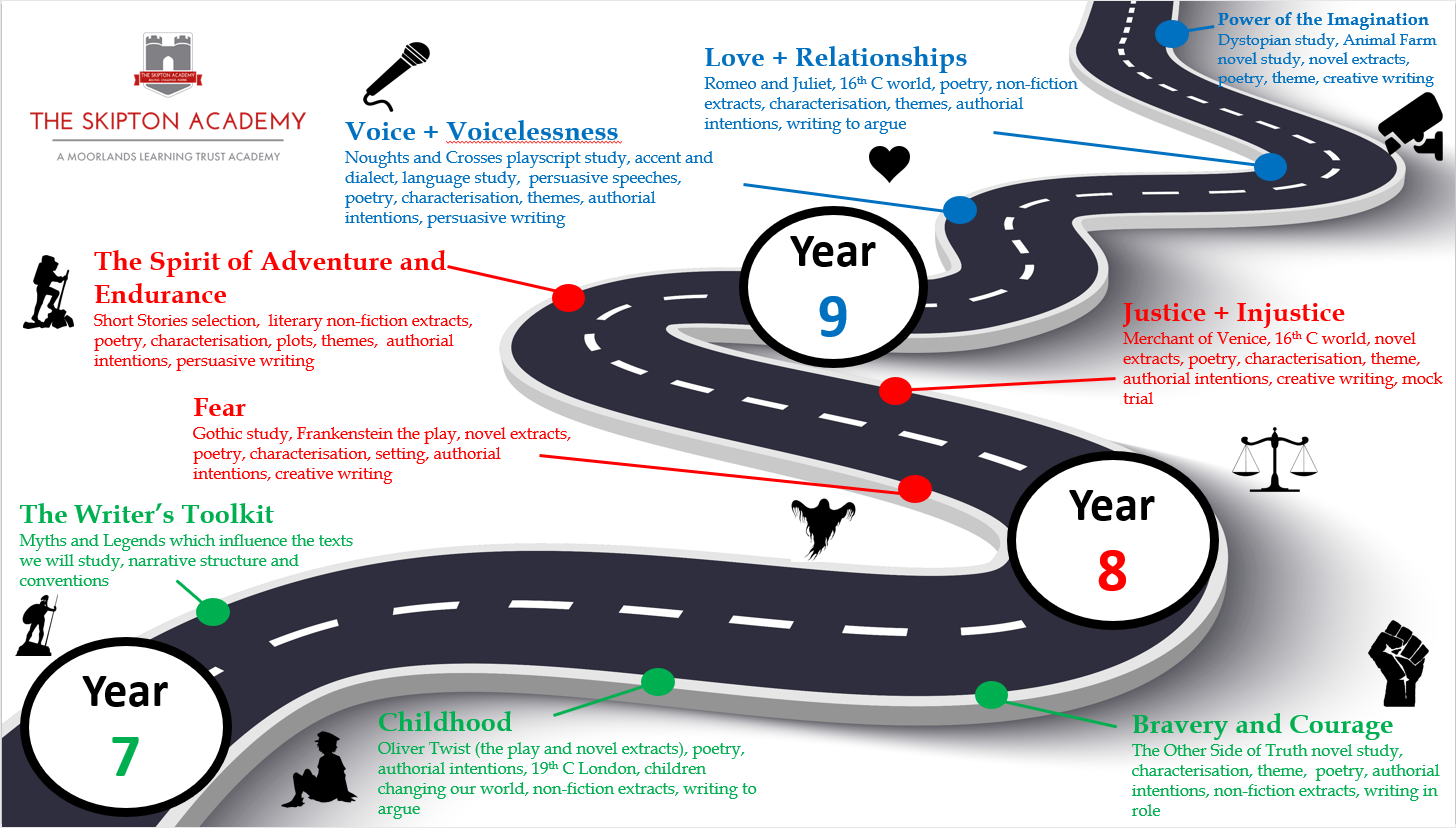 KS4 Learning Journey